Archive for the 'Social Life' Category
Brief: Posters have been appearing all over campus with QR-codes on them– Since I didn't readily have software on my cellphone that could handle decoding them, I snapped a photo and proceeded to search for software online. The photo is an example of one of the posters stuck up at the William G. Davis Computer Research Centre (DC) at U Waterloo– particularly, this one was stuck on a doorway that leads to Chemistry II on the third floor.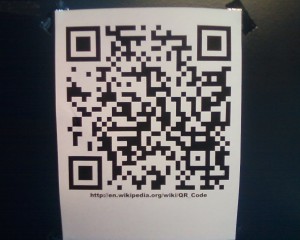 The posters feature a QR ("Quick Response") Code with an explanation below in the form of a URL to a wiki page for anyone who doesn't know what a QR code is. The specifications are owned by Denso of Japan– but the company has decided to let anyone use it without any kind of fee… in order to actually view the specification however, a fee must be paid to ISO.
A QR code can encode a variable number of characters with some redundancy to allow for dirt, corruption and other artifacts, this particular shot was decoded with the Java project, Open Source QR Code Library hosted by source forge… After copying the image to Tin from my cell phone, I did this…
Tin:qrcode eddiema$ java -cp classes:lib/qrcode.jar\
    example.QRCodeDecoderCUIExample res/Photo0347.jpg



[Success] res/Photo0347.jpg
Processed 1 images in 914ms (914 images/sec)
OK: 1 NG: 0
Tin:qrcode eddiema$
And lo and beharold, I was treated to a surprise… what could that URL possibly be? More clues to a longer treasure hunt? Some strange political protest? No, no– the mystery pranksters had something better in store for me.
Yes, I've been had. A belated April Fools no doubt
Cheers, Mystery Prankster. I tip my hat to you.
It's a rickroll, isn't it? *Checking Google, please wait* …ahaha it totally is!
Nice find. Nerd pranks make me all warm and fuzzy inside. (On the other hand, if it were a strange political protest it would have been SO MUCH AWESOME.)
Matt! You weren't supposed to actually say what it was– that kills the effect

Incidentally, I never noticed the error in the calculated number of images processed per second by the Open Source QR code… 1 image in 914ms is roughly one image per second … yikes.
Whoops, my bad. The best part is I didn't even click through to the video, because I'm too accustomed to use the highlight-right-click-search-in-google feature in Firefox so I just got a bunch results about… that thing which I have already spoiled but will endeavour not to ruin doubly by repeating here.
I hadn't noticed that bug either, but now that you mention it, that's quite odd. It probably has a one line fix, assuming someone just mixed up variable names. And a one second delay for QR's not too bad, but if you want to do something involving realtime tracking, that's what ARToolkit is for.
PS: On second thought, who am I kidding? Of course I want to ruin your rickroll, you darn rickrolling rickroller.
So last week, Cara and I joined a gym– I've determined previously that keeping the body healthy gives the brain an opportunity to stay fit as well– thoughts process faster, reasoning and judgment improve– characteristic improvements due to better homeostatic management. I managed to let myself slide this summer, but I hope to be restoring some fitness into this vessel.
We're starting on an assortment of easy routines; visit the gym 3 to 4 times a week, and spend two hours there. Do an hour or half of cardio, and break it up with the circuit of weight and strength training machines. Join a 50 minute class. That kind of thing– not looking for an overhaul, just enough to improve health and to possess reliable bodies.
Hopefully this will improve our general health enough that we can spend a larger margin of time socializing too.
Time will tell.
Brief: Cara and I are going on our honeymoon for a week. Thanks for all the warm wishes!
Brief: Cara and I will be married on August 1st 2009; the ceremony ends at 4pm–
I'm going to put everything else on freeze as of twelve noon today until roughly Tuesday next week.
I'll let the countdown script do the rest…
Countdown Done– wow, that was actually very enjoyable.
Countdown script from Hashemian.com; thanks Robert!