Archive for the 'Network Administration' tag
Brief: This is a technical briefing I made for fellow students in a Computer Security class (Winter 2011) about Secure Socket Layer [SSL] (now Transport Layer Security [TLS]). These briefings fit in nicely since it came after Dr. Obimbo explained the number theory behind RSA (modulus prime exponentiation). I went to the primary source on this topic to write this document: thanks to the Internet Engineering Task Force. I've posted this document as a consumable reference for anyone who needs it.
>>> Download: A Network Security Spotlight on SSL/TLS and HTTPS (pdf) <<<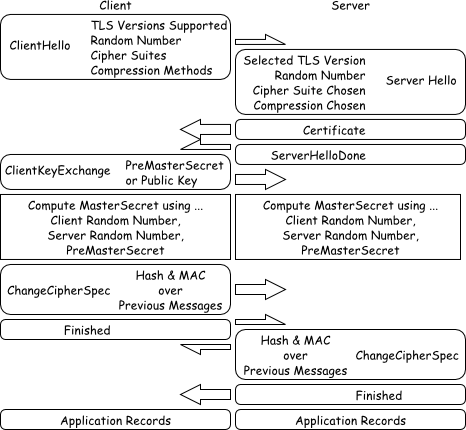 Figure $_: A Schematic of the SSL/TLS Handshaking Procedure.
This document is licensed under Creative Commons Attribution 3.0 Unported. The enclosed figures are further released into the public domain.
Way back at the beginning of this month, I sent away to Apple to order a DVI-I to S-Video / RCA connector. The total cost was $35 after shipping and tax, so it was well worth it as now I've gotten yet more value out of the Mac Mini.
The circa 1980's television set can now play all of the media that is on the network, on the internet or on whatever other storage you can plug into Zinc, the Mac Mini.
Technical Stuff about DVI Connectors
When looking for a DVI to RCA video connector, the wrong thing to do is to go to a big computer shop. These places will turn you away and tell you the part doesn't exist. Heck, even the hobby shops failed to provide it or give any useful information. And you know– they're half right. There's no such thing as a DVI-D to RCA connector, because the former is a digital signal, and the latter is an analogue signal. The DVI-I is port is offers a combined digital and analogue signal, that's how it can be converted out to such a large variety of display devices. It's one of the selling points that Apple discusses about its laptops and other machines.
Buy it or not…
If you purchased a computer with a DVI-D output, you won't be able to use Apple's connector– so don't try, you'll waste your money and be frustrated– however, if you have a machine with DVI-I output, then this thing will work for you too even though big and small shops alike will tell you the connector doesn't exist.
I also got two charming flotation device / pillow / toys packaged with the connector!
Conclusion: I'm happy 😀
Zinc the Mac Mini has arrived! I've set it up as the new webserver currently spewing forth this website. Migration and setup was incredibly easy with MAMP– copying the application folder implied moving the application plus Apache settings and SQL database. Copying the Sites folder from one machine to another was a breeze too. Of course I'll need to upgrade the software in the backend some time in the future, but I'm very happy with how fast it was this time around. It implies very little downtime to be expected should another migration be needed within the same LAN.
Zinc also offers an additional two cores in case I need to offload experiments. I've read various reports about Mac Minis overheating or not– so I'll keep an eye on the thing until I know for sure. It runs very silently next to the router right now. Headless functionality is exactly as I would have hoped and imagined.
So– anyone wanting to do any webhosting, a nice small box next to the router gets my vote.