Archive for the 'Adelaide' tag
I've just finished my presentation in Adelaide. This is the first real biology-heavy conference I've been to. Sujeevan has brought me along with the BOLD team from BIO in order to present my work — and more importantly — to acquire some resolution about the barcoding culture and its biological significance. The Consortium for The Barcode of Life (CBOL) co-hosted this event with many biodiversity parties in Australia. Another huge group present was the International Barcode of Life (iBOL) project. The Barcode of Life Conference is held every other year and is attended by researchers interested in the concerted international barcoding effort. I presented my preliminary findings with a data analysis session and had excellent feedback — it's pretty clear where to go next with my thesis! My talk describes the first steps to automating barcode (contig-like) assembly from ab1 sequencer trace files. This talk describes the present need for automation, trends that we can readily detect in currently assembled data and most importantly — detectable patterns in how human experts perform manual barcode assembly.
The full name of the conference is Fourth International Barcode of Life Conference.
>>> Download: ( pdf: EddieMaBOL2011Adelaide.pdf | zip: EddieMaBOL2011Adelaide.pdf.zip ) <<<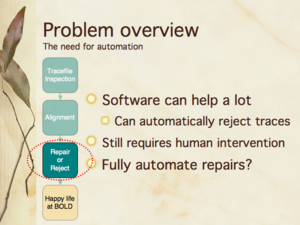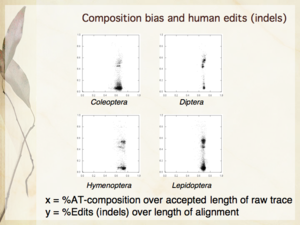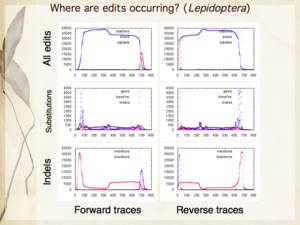 Slides 6, 16, 24 from my presentation — The need for automation; Compositional bias and human edits [null hypothesis]; Where are human edits occurring [in Lepidoptera]?
This has been a very enjoyable conference 😀